Siemens A60 LCD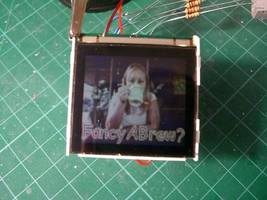 Here's a bit of info and an application for the display from a Siemens A60 (also shared with A65, M55, C60, MC60 and S55 models). This is a nice self-contained module with built in backlight, and connection is made via a row of nice, large easy-to-solder-to gold pads, like the Nokia 3510i. The image resolution is 101 columns by 80 lines.
Having the backlight built in eliminates any problems with uneven illumination which will inevitably happen when trying to backlight transflective LCDs like the 3510's, unless you're very patient to get the backlight diffusion just right. This display uses two white LEDs which are connected via the pads.
As with the 3510i display, there is a driver chip mounted on the back of the LCD. This includes the LCD bias supply, the scanning logic and enough SRAM for a frame buffer. All that's required to make it work is a power supply and a source of data. Image data is sent to the display via a special 4-wire synchronous serial interface.
This display works on a 2.9V supply, which by happy coincidence is almost exactly the same as the forward voltage of each of the backlight LEDs. This means that one of the LEDs can be used as a simple shunt regulator if you don't happen to have a 2.9V rail.
The pinout is (from the pad nearest the edge of the plastic frame): -
Chip Select (pull low to enable)
Reset (pull low to reset)
Register Select (low = command, hi = data)
Serial Clock (serial data is latched on the rising edge)
Serial Data
Logic Supply (+2.9V as measured in the donor A60 cell phone)
Logic Ground
Backlight Anode 1
Backlight Cathodes
Backlight Anode 2