Rotating / Tumbling Composter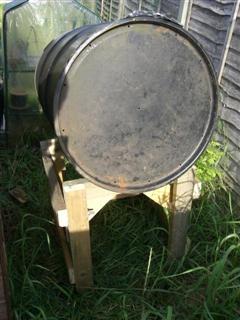 Here's the rotary composter I made a while ago mostly from recycled materials.
The compost is produced in a steel oil drum, which I've modified slightly by drilling a few ventilation holes in the lid and the base. Apparently it's important to use one which hasn't had anything noxious in it previously, i.e. one which didn't actually contain mineral oil at any point. Mine is/was a food grade one which originally contained organic pear juice according to the label on the side.